>

Wrangler & Gladiator Hellcat Conversion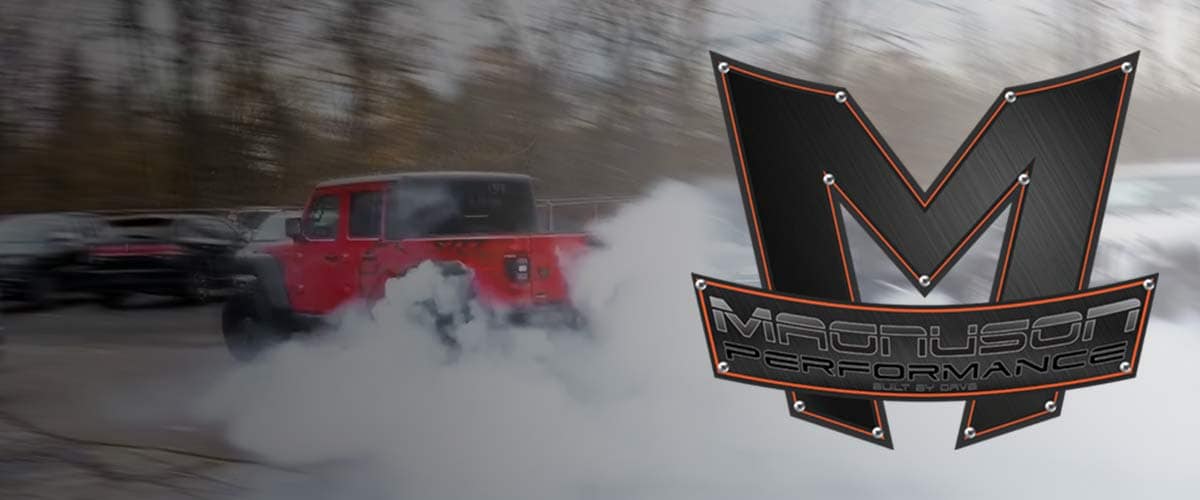 Custom Hellcat Jeep Gladiator and Jeep Wrangler Hellcat Conversions By Magnuson Performance
We are calling all driving and adventure enthusiasts to Magnuson Performance at La Porte Chrysler for a once in a lifetime opportunity to change the way you drive. If you are a lover of both ample driving power and pushing the limits, then we have something special for you! Magnuson Performance, our in-house Custom Truck Shop, is now offering engine swaps on either your Jeep Gladiator trucks or your Jeep Wrangler JL and Jeep Wrangler JK model. These powerful engines are not for the faint of heart. From their incredible horsepower to ample torque, these engines will change the way you drive. Let's take a closer look at some of these powerful engines.
Engine Options & Information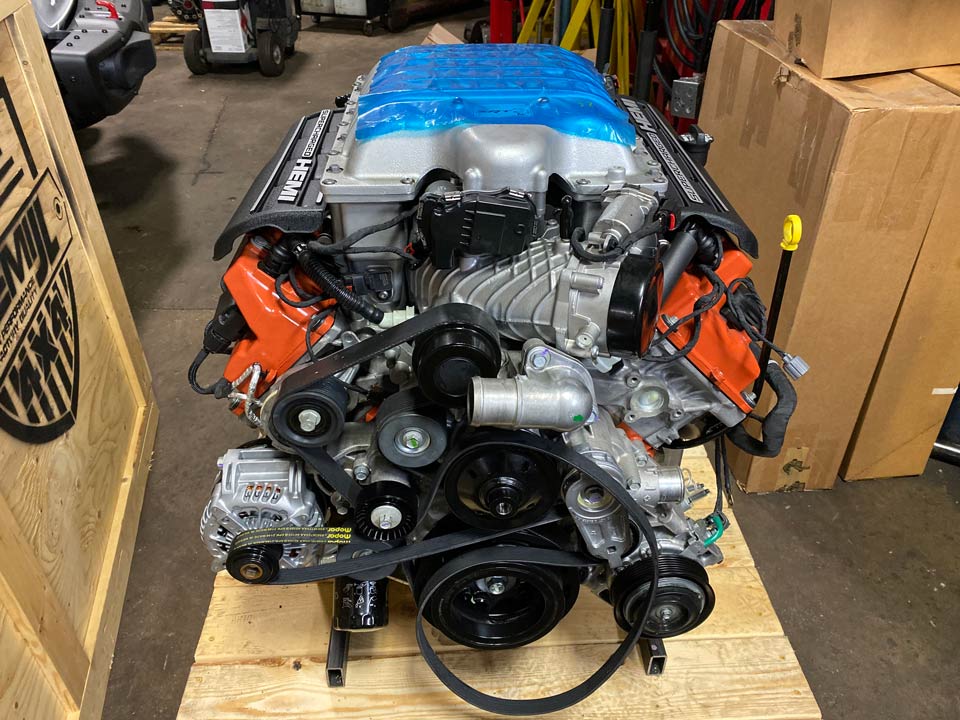 We are now installing a powerful 707 horsepower, 6.2L supercharged Hellcat HEMI crate engine into your Wrangler JK, Wrangler JL or Gladiator. We are also offering an even more aggressive 808 horsepower Demon HEMI engine as an option; yes, you heard that right! The Demon HEMI from the Dodge SRT Demon.
How Much Do Hellcat & V8 Engine Swaps Cost?
5.7L HEMI ® (Wrangler JL & Gladiator Only)
    Conversions starting at $27,995
6.4L SRT8 HEMI ® (Wrangler JL & Gladiator Only)
    Conversions starting at $34,995
6.2L Supercharged "Hellcat" HEMI ® (Wrangler JL & Gladiator Only)
    Conversions starting at $58,850
6.2L Supercharged "Demon" HEMI ® (Wrangler JL & Gladiator Only)
    Conversions starting at $65,850
Hellephant 426 HEMI ® (Wrangler JL & Gladiator Only)
    Conversions starting at $99,995.00
All of these powerful engine swaps come equipped with an eight-speed automatic transmission.
Jeep Gladiator Hellcat Burnout
Where To Go For Your V8 Engine Swap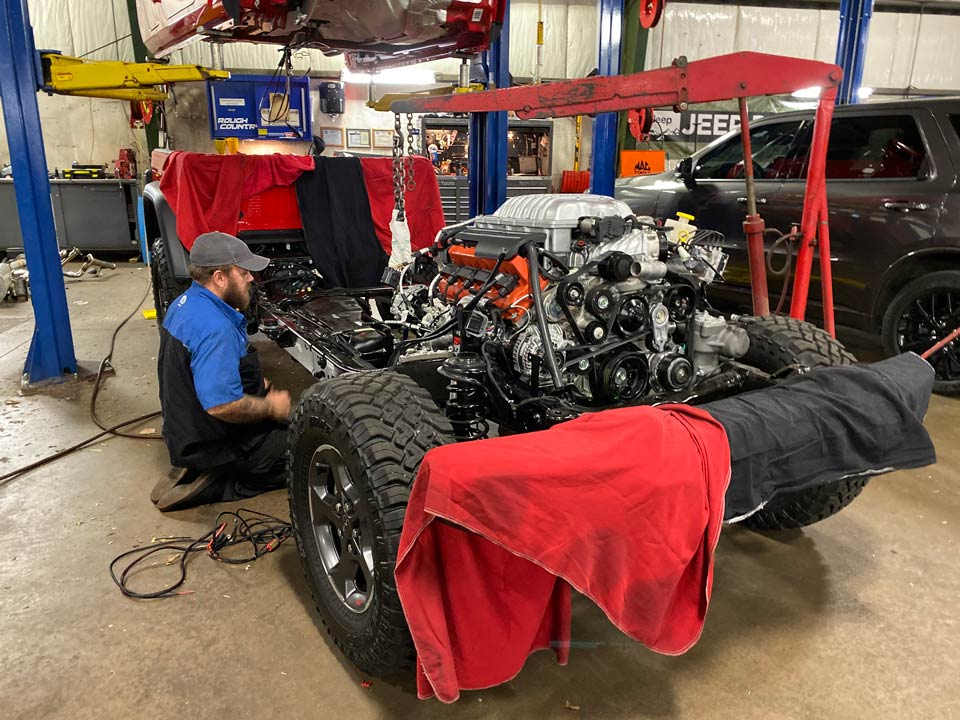 Here at LaPorte Chrysler Dodge Jeep RAM, our trained technicians have the tools and knowledge to properly swap your current engine for one of these more fun-inducing options. These are brand new MOPAR engines that have been sourced directly from the factory and will be professionally installed with genuine MOPAR parts. These are no ordinary engines, which is why their installation can't be performed at just any dealership. You want the right team to install it right so you can feel confident on your first joyride.
Jeep Gladiator Hellcat Startup & Exhaust Sound
Reserve Yours Today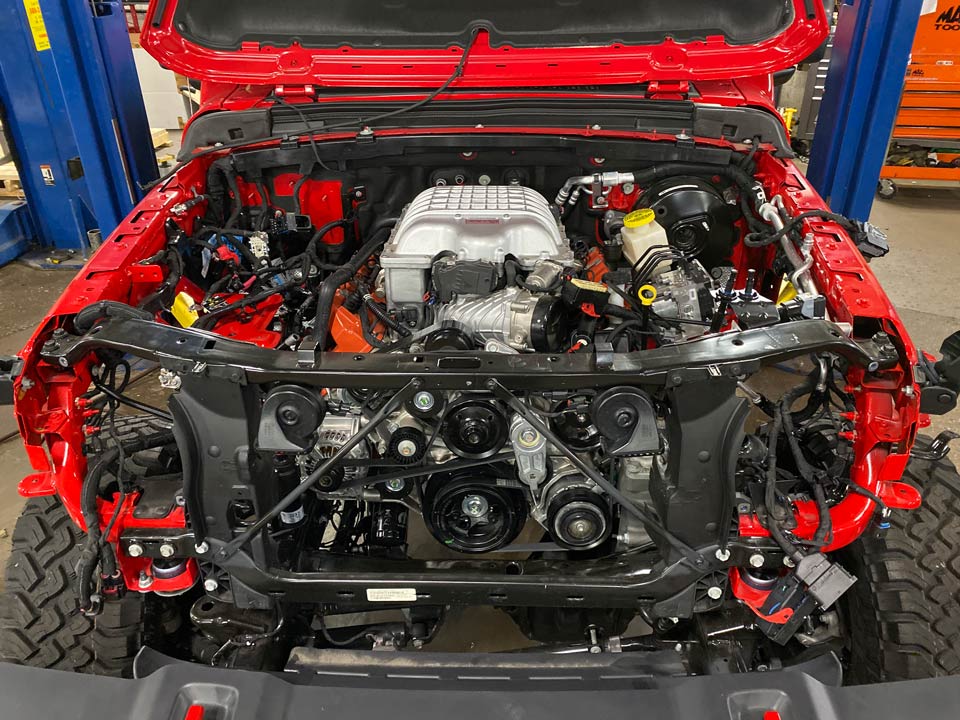 Do these engine options get you excited? If yes, then we recommend you contact Magnuson Performance at our dealership in La Porte to reserve your engine swap procedure. You not only can come in with your current Wrangler or Gladiator, but you can also reserve a custom Hellcat Wrangler or Gladiator to purchase directly from our dealership! This an opportunity you don't want to miss out on. These motors are one of a kind and provide you with the thrilling drive you've been craving.
Both the Gladiator Hellcat Swap and the Wrangler Hellcat Swap are about extreme performance from the track to the streets to off-the-beaten-path. You'll experience thrilling 0-60 times, aggressive acceleration and even more roaring from point A to point B.
It's not every day that you find the engines of the performance Dodge Challenger and Dodge Chargers available on a Jeep Wrangler or Jeep Gladiator. These engines are a real crowd-pleaser. If you are eager to experience 707-horsepower in a pickup truck that is also as road-ready as it is trail-ready, then we highly encourage you to make the swap. It's worth it for your enjoyment.
If you are a La Porte driver who is looking to buy the new Jeep Gladiator or Jeep Wrangler with a powerhouse engine, then give us a call today or visit our location to talk about our currently available options. If you already own a Gladiator or new Wrangler, call us to reserve one of our compatible engine swaps.
If you have any questions or would like to test drive one of our models, visit us today, email us or give us a call. These engine opportunities are very exciting and we love sharing more information with those that are interested. Ready to take back your love for driving? A HEMI engine is just what you've been looking for.
Request More Information About Our Engine Swaps