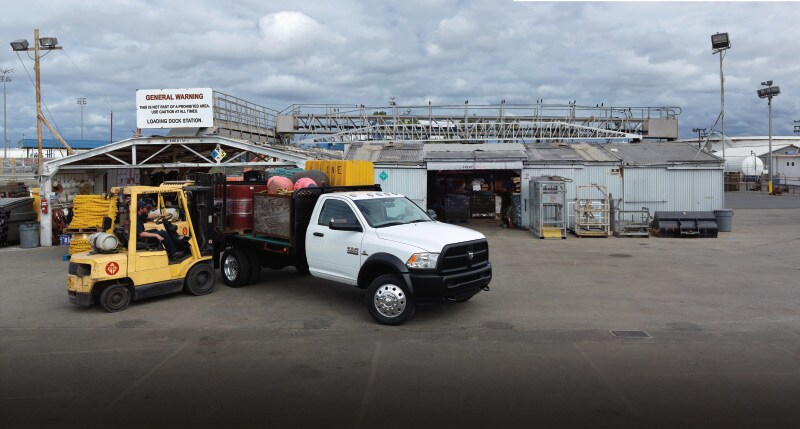 Find Your Next Commercial Vehicle at La Porte Chrysler Dodge Jeep Ram
We at La Porte Chrysler Dodge Jeep Ram are very excited to open our doors to the residents of the La Porte area. We know that you may need a little help when it comes to mobilizing your business. That is the biggest reason that we carry such a huge selection of commercial vehicles and heavy duty Ram trucks in our inventory. With any one of these models, we know that you can work through and totally enjoy everyday on the job. Check out the options that you have in store.
Ram Truck Lineup
With three intense trucks to choose from, you will have no trouble at all finding the one that is right for the jobs that lie ahead. Each truck adds more to the table, and will be the perfect option for those of you that have heavy towing or hauling in your future. The first installment in the Ram truck lineup is the Ram 1500. This beauty shows off with up to 12,750 pounds of towing capacity, and a heavy payload to match. With this truck you can also expect a comfortable and coinvent interior.
The next truck that is worth checking out is the Ram 2500. this beast shows off with a towing capacity that reaches up to 19,780 pounds. With a number like that you can easily tow and haul the trailer with your lawn care business tools aboard. Finally, we recommend the Ram 3500 this unbelievable beast caps off at over 30,000 pounds of towing capacity. With the capability to handle gooseneck towing, you can easily deliver the products that you need to on your farm.
Other Ram Commercial Options
With Ram you can also look forward to other commercial options. One great vehicle is the Ram Chassis Cab. This beauty shows off with undeniable towing and hauling, and is built with a reinforced steel frame. This makes it easier than ever for you to support the serious weight that you need to move.
Switching over a bit, there is the Ram ProMaster to take a look at. This unreal vehicle will give you the space that you need to successfully run your pluming or painting business. The ProMaster is decked out with plenty of cargo room and features an innovative design, allowing you to get the most out of what you have.
Finally, with the Ram ProMaster City, you can totally enjoy the convenience you need for your business, while still remaining aware of the environment you are in. This beauty provides you with incredible space while also making it easy to maneuver the tight streets of the busy neighborhoods that you work in.
Other Resources
Not only do we sell these incredible vehicles, but we also provide you with access to servicing options. We know that time is money, and that you can't wait for your vehicle to be looked at. We offer an online scheduling form for service that will help to ensure that you are getting taken care of when it is right for you. We also have a massive parts department that features plenty of Ram commercial vehicle parts. With all of this at your fingertips, we know that you can work with us in total confidence.
We at La Porte Chrysler Dodge Jeep Ram are very eager to open our doors to the small business owners and hard workers of the La Porte area. With our attention to detail and incredible lineup, we are certain that you can get out there and get on top in no time at all.
Request More Info
* Indicates a required field
Get big benefits for your small business with the On The Job incentives you need to help your business succeed. Contact Dealer for details.