Differences Between the Jeep Wrangler JL and JK Models: What's New?
For those in the market for a Jeep Wrangler in the La Porte area, you've most likely already browsed your options and seen that there are now two categories of Wrangler models available: the outgoing JK and the brand-new JL model. Some drivers may look at both models and just see a Wrangler, but there are some important differences to note that will help you decide which model may be better for your lifestyle and the kind of adventure you prefer.
Here at La Porte Chrysler Dodge Jeep Ram, our mission is to connect Indiana drivers with their first pick of new vehicle. If your lifestyle is one centered around adventure and off-road experiences, a Jeep Wrangler is the perfect choice. Now comes the time to get down to which model is the perfect choice. We've done our due diligence to lay out the differences, so you can make an informed choice before visiting our Indiana dealership for a test drive.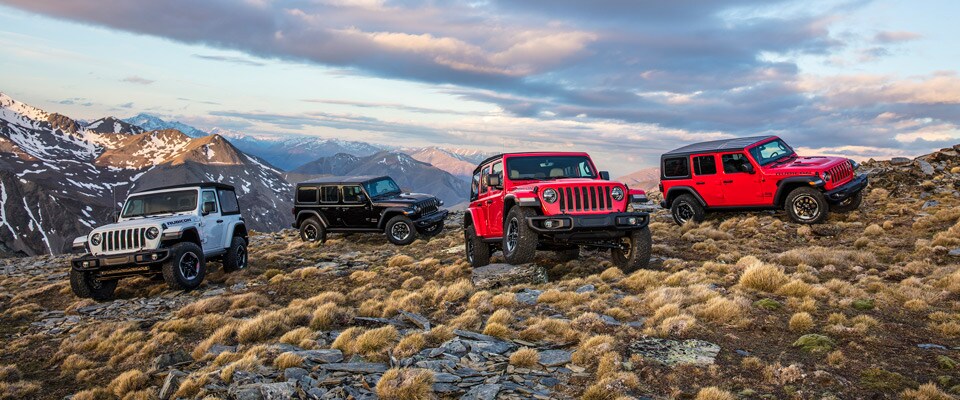 New Jeep Wrangler JL Lineup
Jeep Wrangler JL vs. Jeep Wrangler JK
Exterior Design: Some drivers like options when it comes to customizing the exterior of their Wrangler. In terms of trims, the Wrangler JK more than doubles what the new Wrangler JL offers. However, all four JL trims are included in what the JK offers: Sport, Sport S, Sahara and Rubicon. Drivers will have more color options in the Wrangler JL, but both models still offer a wash-out interior for easy cleaning.
Engine Options: Given that both models are Wranglers, drivers should be aware that each is designed with off-road adventure in mind. When it comes to engines, however, the Wrangler JL comes with a second available option: the all-new 2.0-liter turbo engine that delivers more torque than the 3.6-liter Pentastar® V6 engine that comes standard in both models.
Off-Road Capability: As mentioned, both Wrangler models are designed for off-road travel. To keep its undercarriage protected, both models feature skid plates to keep the fuel tank hidden from rough terrain. The Wrangler JK and JL use Command Trac® and Rock-Trac® 4x4 systems to navigate through the most difficult terrain. The Wrangler JL also has the Select-Trac® 4x4 system that switches from two-wheel drive to four-wheel drive when roads require one over the other.
Safety Features: Both models come with standard features that serve drivers well on and off road, including Hill Start Assist, Electronic Stability Control and Traction Control. Then the Wrangler JL steps up with a couple features missing from the JK model including a Tire Pressure Monitoring Display and a ParkView® Rear Back Up Camera.
Technology Tools: If you're a driver who enjoys staying connected on the road, you'll enjoy the standard technology features that come in the Wrangler JL like integrated voice command with Bluetooth®, Uconnect® with a 5-inch touchscreen display and a media hub with USB and auxiliary ports. The Wrangler JK shares an eight-speaker system and audio jack input for mobile devices with the JL but cannot match the other standard features.
Schedule a Test Drive in La Porte Today
Choosing to buy or lease your Jeep Wrangler JL or JK from us, you're choosing a dealership that stands by every vehicle it sells with a lifetime warranty. Plus, you'll receive excellent service from our caring staff whose goal is to get you back on the road in the vehicle that exceeds your expectations and fuels your lifestyle. After you've browsed our Jeep Wrangler inventory and decided which model you're interested in, visit us at 1309 Pine Lake Road for test drives and financing assistance that will make the rest of your search a breeze. We hope to see you soon.